Pantastic is Sunderland's Community Steel Pan Band. We are currently a 23 strong group of mixed ages and physical abilities. We play a variety of music from traditional Caribbean calypso to 50's rock 'n' roll right through to modern pop music. The band has a long and prestigious history winning awards, entertaining royalty and putting the sun into community and corporate events for over 16 years! Though we have been through many changes in that time, Pantastic is still going strong, performing more songs year on year, pushing ourselves and audiences' expectations. We are based in Sunderland, Tyne and Wear but travel across Northern England and beyond to perform.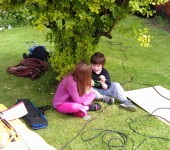 2014 is starting with a few fun days and plenty more lined up for over the summer.  Cherry Tree Big Lunch was a super place to play where we were made very welcome and had great fun playing.   Even though we say it ourselves we sounded gooooooood!  Plenty of clapping, foot tapping and even the odd bit of dancing in the corridor.   We would love to return sometime soon and some of our older members are thinking about putting their names down for the future! ( photos to follow!)
Another Big lunch was held at Grindon CCP and local community members could just come along for a free lunch and enjoy all the facilities there including a bouncy castle, games and of course Pantastic!  There was lots of information on the organisations who meet at the centre  to let the community know what is going on there and hoping that there would be new interest in activities and events.
Saturday 14th June saw us baking in the sun (after a grey start)
at Ewesley Road Church to help their Strawberry Tea Fundraiser to go with a swing.  It was enjoyed by all with a record turn out ( over 90 Strawberry teas!) and we even stopped the traffic at the junction when some motorists at the lights were enjoying it so much they forgot to move off when they went green!!
A big well done to all band members who managed to complete the afternoon despite injuries, illness and sunburn ( note to self remind all fair skinned band members about factor 50+ even if it does turn their skin green and I hope Paul's one sided sunburn doesn't look strange for too long!)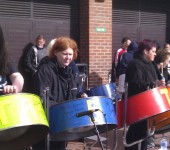 Did he run in the Marathon – nope – far too energetic for him – but the wind did blow him off his Pan! Last year we had a very sunny day but this year where did the Arctic winds come from in April? Frozen fingers and toes were the order of the day for Pantastic with even sleeping bags and blankets not keeping out the cold. We have to feel sorry for the Marathon and 10K participants braving the freezing temperatures to run or walk, many of them raising funds for numerous worthy charities. How brave they were. Well done to them all! Personal triumphs and funds raised plus a Pantastically musical background for the start and for many at the finish too. Interspersed with a dance troupe who helped with a much needed warm up routine and entertainment. We are sure we sounded good but as the gale blew the music away we couldn't hear ourselves!! Added to the mental shopping list for the future are truly-outdoors jackets, fleece blankets, hand-warmers and Thermos flasks! Wonder if anyone out there has got any going spare. Here's hoping the Summer arrives soon and we won't need them.
Thanks for the invitation to play and we hope we are invited back next year (fingers crossed for better weather too).
PS We have to say a well done to Pantastic members Joanne and Lynne who completed a zip-wire ride from the Wearmouth Bridge to Panns Bank raising funds for GCCP, so brave but what fun!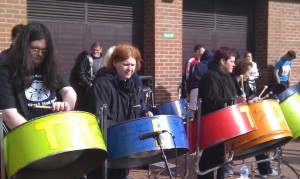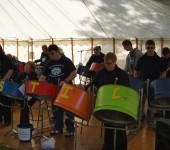 Everyone set off early on a cold and frosty autumn morning – yes frost in September! We were made very welcome at this well organised event where we set up in a marquee with grass confetti! ( the tent was set up on wet cut grass which fell delicately onto us throughout the performance as it dried out – different but not unpleasant!). Continue reading →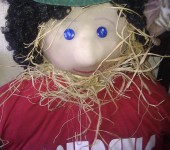 Pepe, Pantastic and their new pal Percy the Scarecrow had a great day out in Penshaw last Saturday (15th). They had never seen so many brilliantly made scarecrows and even one that moved! Even the Queen and Prince Philip put in an appearance for the occasion. Continue reading →